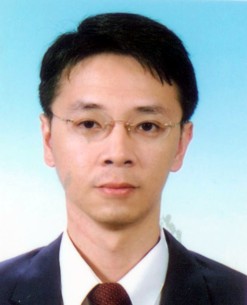 王宏斌醫師



       過敏免疫風濕科主治醫師
        中華民國內科學專科醫師
        中華民國過敏免疫學專科醫師
        中華民國風濕病學專科醫師

        1. 過敏性鼻炎、氣喘、蕁麻疹等過敏性疾病
        2. 全身性紅斑狼瘡、乾燥症、發炎性肌炎、硬皮病、貝西氏症、血管炎等免疫疾病
        3. 類風濕病關節炎、僵直性脊椎炎、乾癬及乾癬性關節炎、退化性關節炎、痛風、
           下背痛、骨質疏鬆症、軟組織風濕症及各式風濕病

教育部部定講師
一般醫學訓練臨床教師

        台北醫學大學醫學系畢



        台北榮民總醫院內科部住院醫師
        過敏免疫風濕科總醫師暨研究員


        中華民國內科醫學會員
        中華民國過敏免疫學會會員專科醫師
        中華民國風濕病學會會員

        1. Mycobacterium-associated lobular panniculitis, mimicking a rheumatoid nodule in
         a patient with rheumatoid arthritis. Chen WS, Lee YF, Wang HP, Su KY, Lee CH,
         Huang DF. J Formos Med Assoc. 2009 Aug;108(8):673-6.
        2. Autoantibody and biopsy grading are associated with expression of ICAM-1, MMP-3,
         and TRAIL in salivary gland mononuclear cells of Chinese patients with Sjogren's syndrome. 
        Chen WS, Lin KC, Chen CH, Liao HT, Wang HP, Li WY, Lee HT, Tsai CY, Chou CT. J Rheumatol.
         2009 May;36(5):989-96
        3. Hemolytic uremic syndrome with ischemic glomerulonephropathy and obliterative vasculopathy
         in a systemic sclerosis patient treated with cyclosporine-A. Chen WS, Young AH, Wang HP,
         Huang DF. Rheumatol Int. 2009 May;29(7):821-4
        4. Cytokine production from peripheral blood mononuclear cells in patients with ankylosing
        spondylitis and their first-degree relatives. Chou CT, Huo AP, Chang HN, Tsai CY, Chen WS, 
         Wang HP. Arch Med Res. 2007 Feb;38(2):190-5.
        5. The Clinical 5. Application of Anti-CCP in Rheumatoid Arthritis and Other Rheumatic Diseases.
         Chou C, Liao H, Chen Ch, Chen W, Wang H, Su K. Biomark Insights. 2007 May 3;2:165-71.
        6. Association of acute anterior uveitis with disease activity, functional ability and physical mobility
         in patients with ankylosing spondylitis: a cross-sectional study of Chinese patients in Taiwan.
          Chen CH, Lin KC, Chen HA, Liao HT, Liang TH, Wang HP, Chou CT. Clin Rheumatol. 2007 Jun;
          26(6):953-7.
        7. An unusual case of Candida tropicalis and Candida krusei arthritis in a patient with acute
         myelogenous leukemia before chemotherapy. Wang HP, Yen YF, Chen WS, Chou YL, Tsai CY,
         Chang HN, Chou CT. Clin Rheumatol. 2007 Jul;26(7):1195-7.
        8. Pulmonary arterial hypertension in autoimmune diseases: an analysis of 19 cases from a
         medical center in northern Taiwan. Chen CH, Chen HA, Wang HP, Liao HT, Chou CT,
         Huang DF. J Microbiol Immunol Infect. 2006 Apr;39(2):162-8.
        9. Recurrent autoimmune inner ear disease (AIED) and polyarteritis nodosa in a patient
         with large cell lung carcinoma. Liao HT, Chien CH, Chen CH, Wang HP,
         Huang DF.Clin Rheumatol. 2007 Jun;26(6):1008-10.
        10. Weber-Christian disease presenting with intractable fever and periorbital swelling
         mimicking angioedema. Wang HP, Huang CC, Chen CH,
         Lin HY. Clin Rheumatol. 2007 Jun;26(6):1002-4.